current position:
PRODUCT
>
CF900A-Green Field Solution
CF900A — Prefabricated Modular Data Center (Green Field Solution)
CF900A uses pre-manufactured flat components to assemble quickly on-site or near construction site. In this way, CF900A not only has the advantages of a prefab modular data center, namely fast deployment, high quality and low TCO, but also achieves the goal that its interior space and layout are similar to a brick-and-mortar construction.
Fast Delivery: 
◆ 60~90 days; (Excluding overseas transportation)
◆ PUE can be as low as 1.09, and low TCO;
◆ Factory prefabrication, reliable quality;
◆ The interior space size and structure are in line with a typical brick-and-mortar data center;
◆ The external independent cooling system and the upper static pressure room for cold air supply 
    make the cooling more reliable, accurate and efficient;
◆ Flexible expansion and customization.
Staged Expansion:
◆ Construction in phases and expansion on demand
◆ Short construction period
◆ Flexible to expand and not affecting existing operation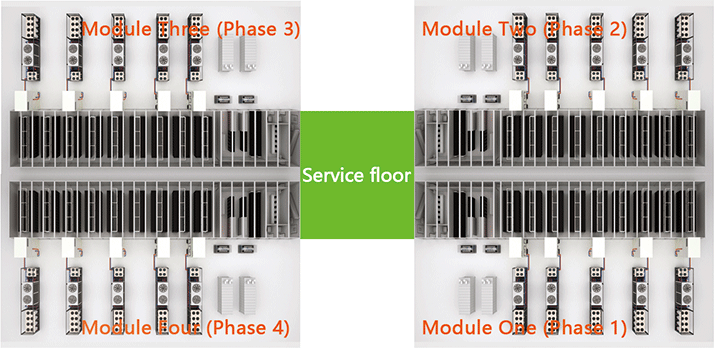 1MW Standard Block Module: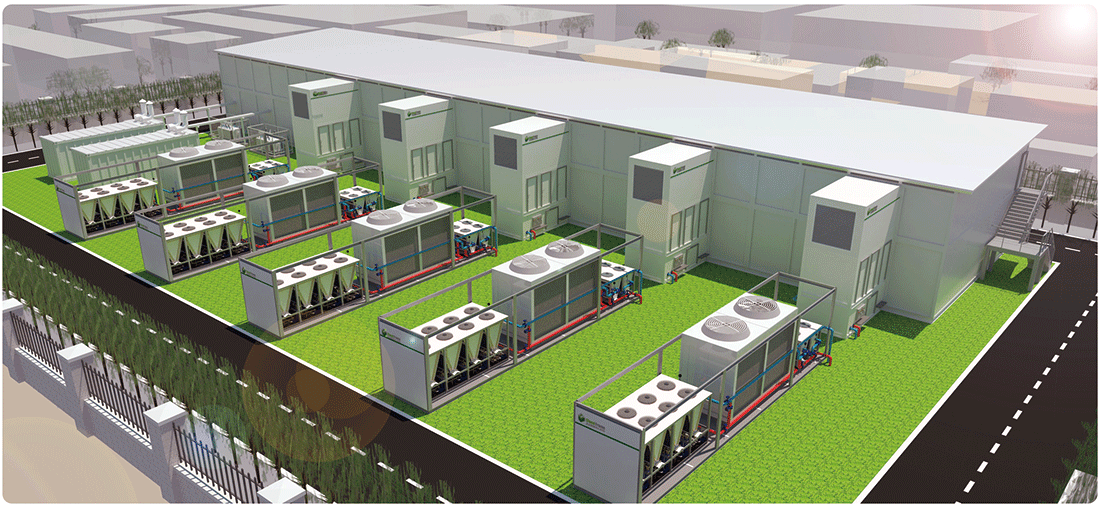 The CF900A has a two-story structure. The upper part is for air passage (for both cold and hot air). The lower part is for IT space, power distribution, FOC and other operation space. The 1MW standard block module has the following parameters:
◆ The 1MW standard module has 9 cold/hot aisle modules with total of 252 IT racks, 4kW/rack, total IT loads of 1MW;
◆ Each cold/hot aisle module has 28 IT racks, 2 precision distribution cabinets;
◆ The server inlet temperature range is 21-25℃, the dry bulb humidity range is 35-65%;
◆ The standard module has 100% outdoor fresh air cooling system and 100% mechanical cooling system;
◆ The monitoring system has real-time monitoring of electricity usage at rack level;
◆ Total area of 2200m2, the width is about 35m, the length is about 63m, and the height is about 7m.